Until now, understanding social media engagement has been a maze of data and statistics for any brand, especially for sports leagues and franchises, and finding common ground on what really matters has been elusive. The endgame for the National Women's Soccer League (NWSL), was to find a way using data science to create an easy-to-understand metric for assessing social media engagement across all platforms.
A very real client challenge led us on the journey to create a transparent, accessible engagement rate. The NWSL wanted to discover how they matched up against other North American professional sports leagues, but upon digging into the numbers and researching definitions, there were more questions than answers.
Engagement rate is the ultimate currency in social media metrics, measuring the rate at which followers like, comment or share a post. Yet, there has been no easy way for brands to understand their rate over the course of a tournament, season or year, nor how it compares with other brands, or in this case, other leagues.
Unfortunately, social media measurement varies between platforms, and specialist companies that publish engagement rankings often do not share their methodologies. Since there hasn't been a single, widely accepted method to calculate engagement rate up until now, we decided to develop a transparent engagement platform that is open-source and accessible to all.
There were three primary challenges we faced in developing this approach:
1. No social media standards or consensus – Definitions of metrics differ, even the definition of a "post" is up for dispute.
2. No established methodology for measuring metrics – Engagement rate is calculated differently across platforms with no insight on how the rate changes over multiple posts. No tool is readily available to find a single engagement rate that aggregates data from multiple sources.
3.No access to industry-wide social media data – Even if the first two challenges are solved, there is no way to gain access to required data from other brands in the same category
To tackle these challenges, Stone Ward worked with partner data provider Falcon.io to establish some common measurement definitions and collect category-wide data.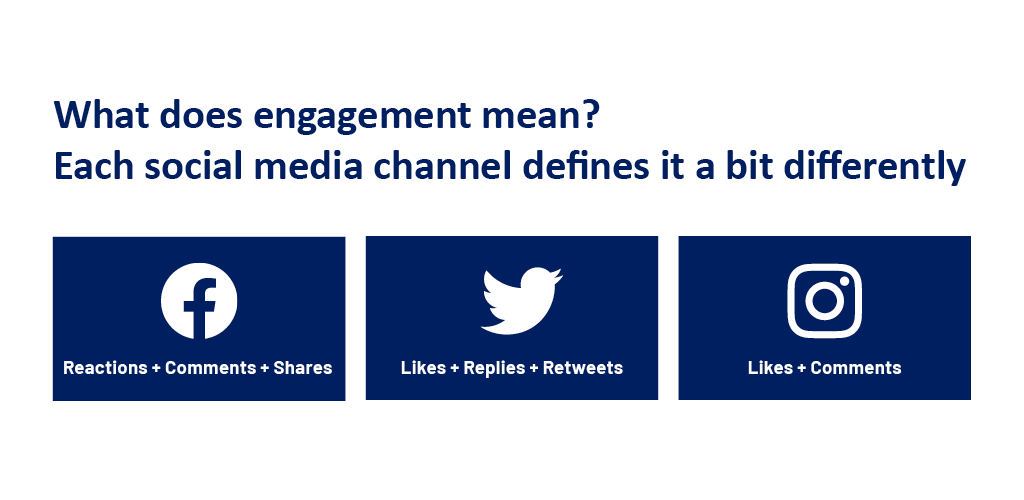 What we made: the Open Engagement Rate. With publicly available data, we can determine daily engagement rates and then properly weigh each day's rate based on the volume of posts for that day. This approach delivers results that are virtually indistinguishable from the inaccessible post-by-post engagement rate, only differing based on the minute variation between follower counts within a particular day.
This method results in a simple metric that's both accurate and adaptable. The flexibility inherent to the Open Engagement Rate model means it can be used to measure social media activity during any given time frame, compare social media presence of different brands, and measure any of the leading social media platforms (Facebook, Instagram and Twitter) in isolation or in aggregate.
To use the Open Engagement Rate for the NWSL, we measured six sports leagues for a 12-month period from May 2020 to April 2021 across all three leading social media platforms. Overall, the NWSL had an engagement rate of 0.40 percent compared to the next closest league, Major League Baseball, which had an engagement rate of 0.33 percent. The NWSL also had the highest engagement rate in each of the leading platforms measured: Facebook, Instagram and Twitter.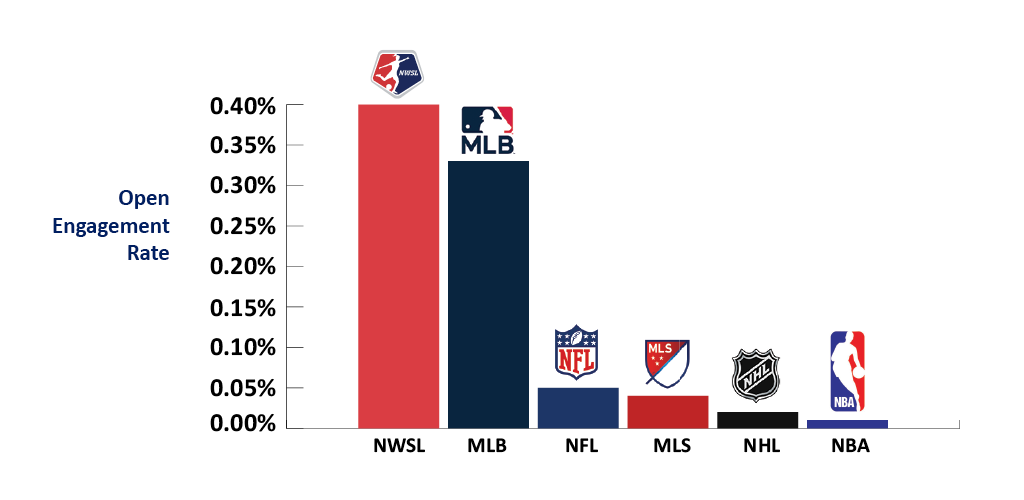 A Revolution for Social Media Measurement
A year ago, the National Women's Soccer League approached Stone Ward about how its social media performance compared to other sports leagues. By using publicly available data, the team at Stone Ward developed a simple metric to help resolve the issue of defining a standard for measuring engagement across social media platforms – the Open Engagement Rate was born.
 The Open Engagement Rate metric can be used for any business, brand or influencer seeking to better understand engagement rate for a specific campaign or relative to other players in the category. We believe the Open Engagement Rate can make a difference in social media analysis and encourage other brands to give it a try. If you or your business would like to team up with Stone Ward to use the Open Engagement Rate, reach out to tlillig@stoneward.com. We look forward to hearing from you!