It's rare when marketing has a role to play in a global pandemic, but at Stone Ward, one client came to us with a challenge. Confusion and uncertainty are common threads surrounding the COVID-19 pandemic. Researchers are rushing to create and test treatments, and with new information being released daily, sick patients are unsure what to expect.
One therapy, using convalescent plasma from recovered patients, has the confidence of leading doctors around the world, including Dr. Fauci, the director of the National Institute of Allergy and Infectious Diseases. There was an urgent need to spread the word about this potentially lifesaving therapy. Chicago Medical Society, a Stone Ward client, stepped up.
The Chicago Medical Society (CMS) was founded in 1850 to educate Chicago area doctors, advocate for improved policy and maintain professional standards for the medical community. Serving over 17,000 medical professionals in the Chicagoland area, CMS maintained their tradition of leadership by driving action around the urgent need for convalescent plasma of Chicago area, recovered COVID-19 patients to assist current infected patients. Partnering with Metro Infectious Disease Consultants and Vitalant blood bank, CMS tasked Stone Ward with spreading the word about their need and coordinating a massive plasma drive around the city.
The Stone Ward team launched a multifaceted public awareness campaign that included the following components: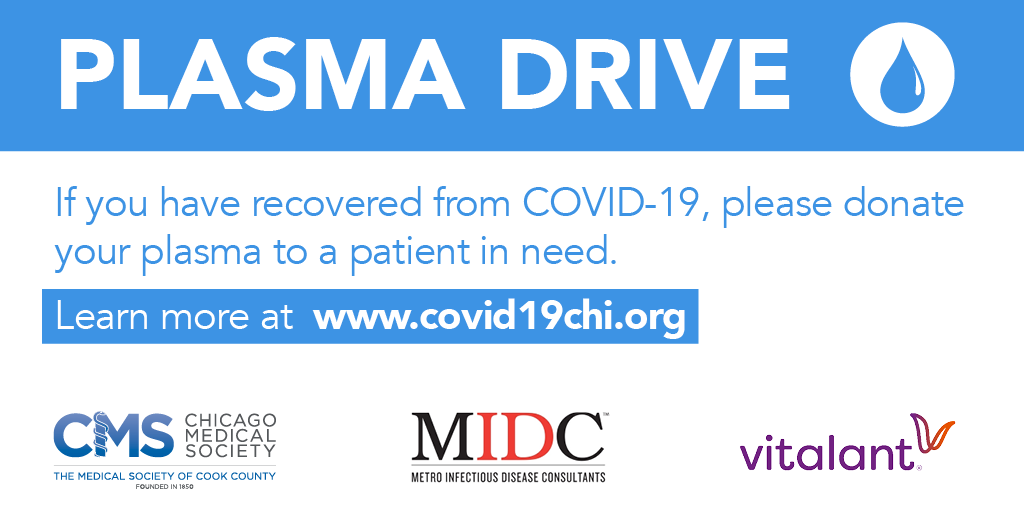 Essential Website and Digital Hub
Stone Ward created and launched a website in record time. This website communicates the importance of convalescent plasma in the fight against COVID-19 and helps collect the contact information of recovered patients to be screened for donation. The need was critical and Stone Ward was able to make the website live within 24 hours and immediately direct potential donors to a screening center.
Public Relations Outreach
Within a matter of days, Stone Ward secured media coverage from Chicago area stations to promote the campaign and drive traffic to the website. In addition to securing coverage and promoting segments on social channels, Stone Ward provided media coaching for doctors who were to be interviewed. After live interview segments, there was a spike in people registering to donate plasma.
Stone Ward designed unique social media campaigns to reach a broad audience of Chicago area residents. In addition to both organic and paid posts, Stone Ward collaborated with Chicago area influencers to spread the message amongst their large network of followers. Several posts achieved viral status with a rate four cents per engagement.
During a time when communities are being inundated with information, the CMS sought a way to share information that was clear, accurate and educational to post on social channels. Stone Ward designed multiple infographics with concise information to drive traffic to the new website and inform Chicago area residents of the need.
At Stone Ward, we were, and still are, proud to partner with the Chicago Medical Society on this critical initiative to not only find donors, but help those suffering from COVID-19 get the resources they need to survive. The CMS is truly "building good," in these uncertain times and Stone Ward is honored to be a part of that.