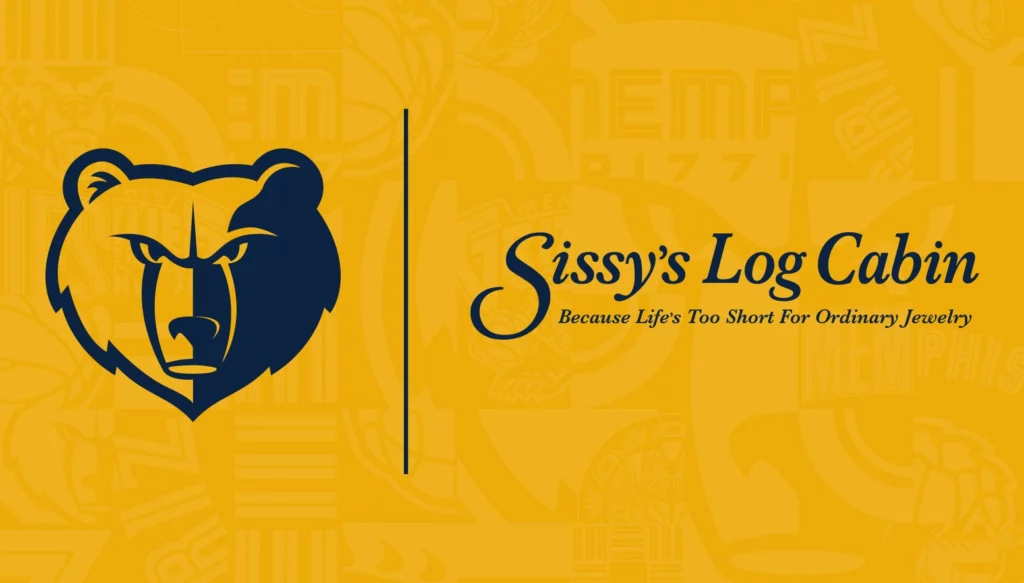 MEMPHIS, TENN. (Apr 15, 2022) – Sissy's Log Cabin today broke ground on its new Laurelwood Shopping Center store location and announced becoming the official jeweler of the Memphis Grizzlies, bolstering its commitment to the greater Memphis community as the region's premiere jeweler.
On the heels of an exciting season for the Memphis Grizzlies, Sissy's Log Cabin is re-establishing its Memphis presence two-fold. As the official jeweler for the Memphis Grizzlies, Sissy's will become the presenting partner of the all-encompassing floor seat experience with the Floor Seat Lounge and named first two rows of Floor Seats for Grizzlies games.
Just 10 miles east of the Grizzlies domain, Sissy's Log Cabin announced its plans to relocate in spring of 2023 to a new storefront at 4542 Poplar Avenue, remaining part of the Laurelwood Shopping Center bringing new life to the former location of Rafferty's. Construction of the new, free-standing structure is set to begin later this year and will wrap up before summer of next year.
"This is an exciting time for our family-owned company, and we are eager to grow and expand our selection and services for our Memphis clients," said Bill Jones, CEO of Sissy's Log Cabin. "The support we have received from our friends and partners here in Memphis has been critical to our business, and we look forward to bolstering our investment in this community with a state-of-the-art storefront and a new partnership with Memphis' professional sports franchise."
"We are so grateful for the support from Sissy's and so happy to see them increase their presence in Memphis. By enhancing the Grizzlies fan experience, both for floor seat holders through the lounge and through custom branded jewelry they will design and produce, Sissy's has demonstrated their commitment to the city and the region. We look forward to growing our partnership together," said Anthony Macri, Vice President of Partnership Marketing for the Memphis Grizzlies.
"Laurelwood Shopping Center prides itself on providing the best local retail experience in our great city," said Cory Prewitt, President of Laurelwood Shopping Center. "Sissy's Log Cabin has made an immediate impact on the retail landscape in a short time, and we are thrilled to continue this long-lasting relationship. Sissy's commitment to excellence, customer service, and community involvement make it a perfect fit for Laurelwood."
Designed by architect Jesse Balaity, the new 9,000 square foot store will be the newest addition to the Laurelwood Shopping Center. The building will be surrounded by green space and ample parking, with dedicated security and modern structural elements with designated space for Sissy's expanded lines such as Rolex and Cartier, diamonds, estate jewelry, and more. The current Sissy's location in Laurelwood will remain open during construction. To shop online or follow updates of the new location, visit SissysLogCabin.com.
About Sissy's Log Cabin
Founded in 1970, Sissy's Log Cabin is a family-owned and -operated jewelry store with six locations across Arkansas and Tennessee in Pine Bluff, Little Rock, West Little Rock, Jonesboro, Conway and Memphis. Well-known for its extraordinary quality jewelry and exceptional customer service, Sissy's Log Cabin offers a spectacular selection of diamonds, jewelry, estate jewelry, and fine gifts.