Back in March of 2020, we were introduced to something most of us had never experienced. The ramifications would be far-reaching, with countless outcomes. We felt it within our own agency family and family of clients. But while some of our clients were met with industry challenges you just cannot prepare for, a couple of them actually thrived. When the outdoors called, our clients Natural Gear Camouflage and the Arkansas Game and Fish Commission adapted and answered.
With Everything Closed, One Place Stayed Open
Restaurants, gyms and theaters all became COVID-19 casualties. Youth sports were canceled. Living rooms became classrooms. With families quarantining at home, there was a dire need to find new outlets for fun and family time. That's when many discovered, you can't put a curfew on the great outdoors.
The Outdoors Is in Their DNA
Fortunately, two of our clients were set up for success. Natural Gear Camouflage and the Arkansas Game and Fish Commission (AGFC) didn't just survive within the pandemic, they thrived. They filled the space that everyone was out to enjoy.
"We know that one of the biggest barriers to outdoor recreation is time," said Spencer Griffith, Assistant Chief of Communications for the Arkansas Game and Fish Commission. "In 2020, that was one thing most families had a lot of."
All this extra time gave families the opportunity to take a hike, learn to fish, go on a hunt and more. Many found new hobbies in watchable wildlife, learning about the birds and other animals that call our state home.
Opening the Door to Arkansas' Outdoors
To help families and individuals experience the great Arkansas outdoors, we planned and executed a multi-media campaign with the primary goal of educating those about the need and benefits of purchasing an Arkansas fishing or hunting license. To remain efficient and reach only those in-market for outdoor activities, Stone Ward partnered with AGFC to build custom audiences that were used as the primary focal point for audience planning.
From targeted television that reached all of Arkansas, to digital marketing that leveraged in-market signals through real-time user behavior, to billboards that were impossible to miss, the campaign leveraged an efficient model of media diversification and standout creative that resulted in double-digit license sales increases Year-over-Year.
Natural Gear for the Natural State
When hunters took to their deer stands and duck blinds in 2020, we wanted more of them to do so in Natural Gear's camouflage. To increase sales, we used a digital first strategy that tapped into historic purchase data and known audience behavior. By understanding audience age, where they lived, what they purchased and how many times they returned, we were able to create multiple audience groups that helped guide both creative and digital planning.
While some audiences needed only a subtle reminder through targeted email, other audiences were brand new to Natural Gear who needed more brand building.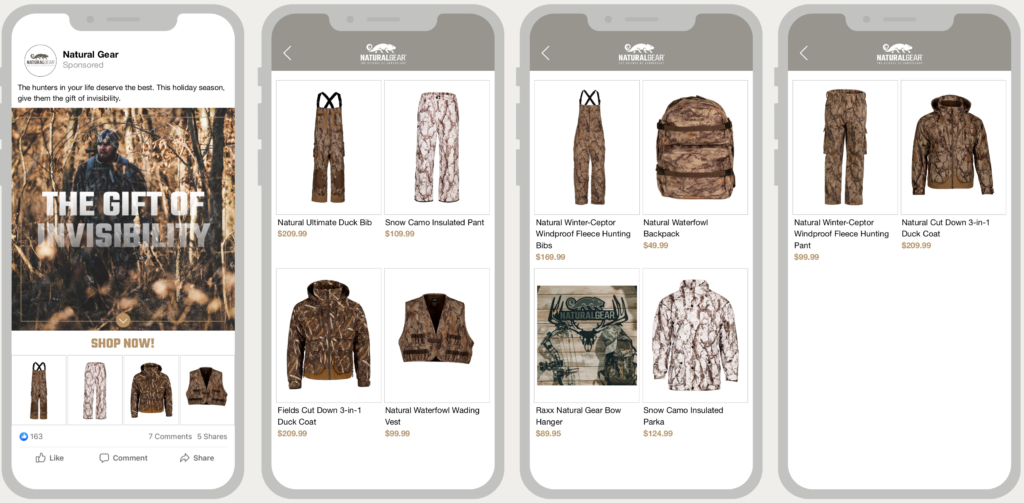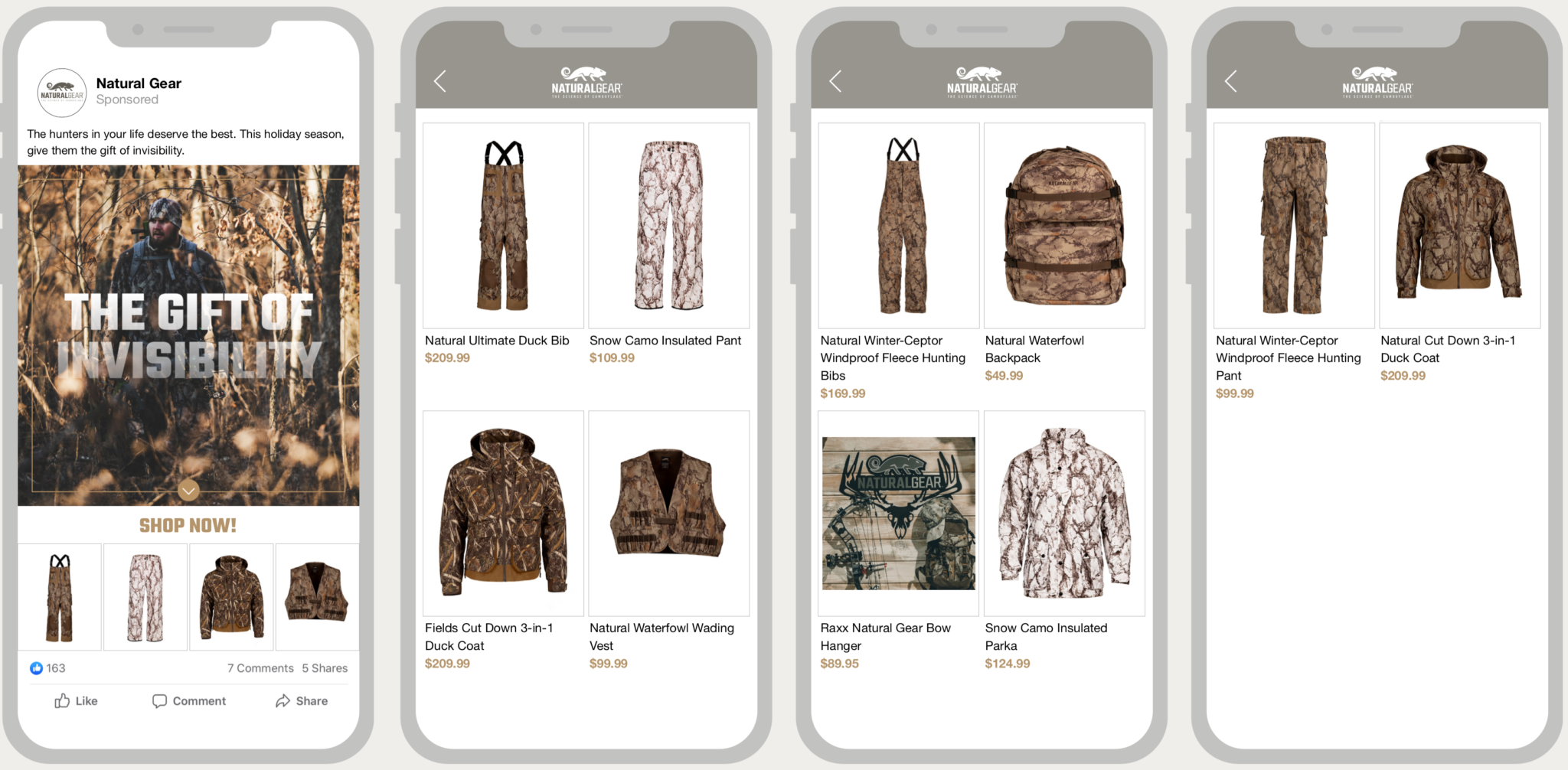 Products Purchased in the Palm of Your Hand
Also, since Natural Gear has an actual product to sell, we were able to utilize Instant Storefront ads, giving us the flexibility to curate customized products or allow dynamic groupings based on Facebook's algorithm. These ads also make it as easy as possible for consumers to buy their gear with a few simple swipes and clicks. Customers can browse product photos and information without ever leaving their social media app, which means one less thing standing between them and "Add to Cart." Through this digital mix, Natural Gear saw triple digit growth Year-over-Year.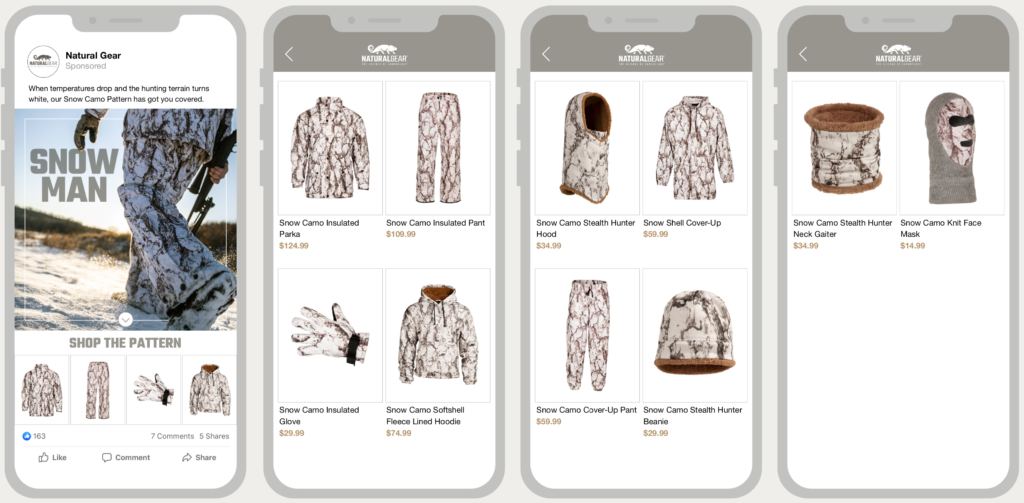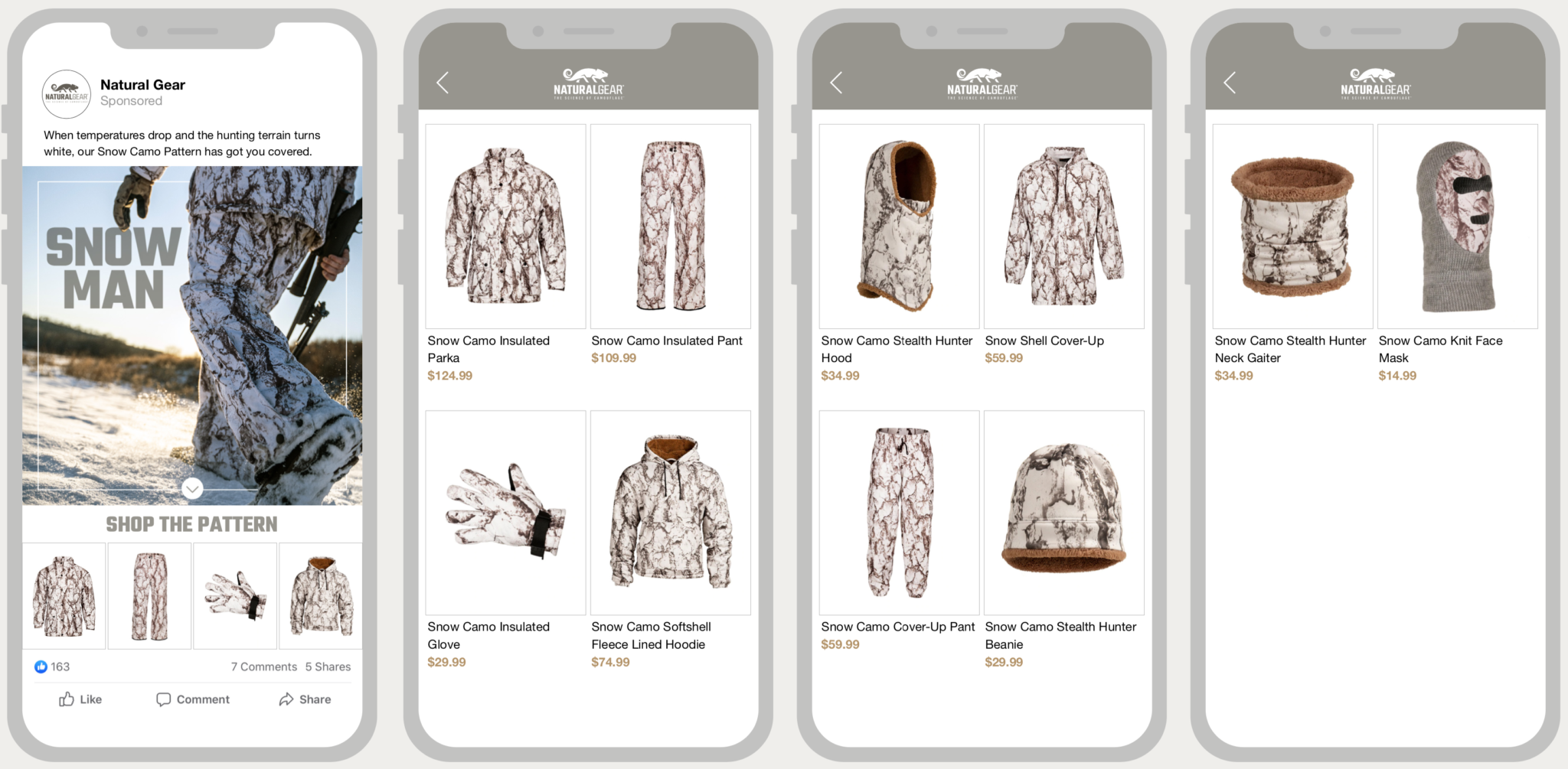 Getting Great Results for the Great Outdoors
Getting more people into the outdoors is great. But of course, our ultimate goal is to make the cash register ring for our clients.
There's nothing camouflage about these results for Natural Gear.
Natural Gear
• E-commerce sales up 10%
• Organic revenue up 112%
• Total social media revenue up 325%
And, while hunting and fishing licenses have been dropping across the country, we were happy to see increases this year in Arkansas.
AGFC
• Fishing license sales up 18%
• Hunting license sales up 4%
Almost everyone at our agency enjoys the outdoors in some capacity. After all, our Little Rock team is fortunate enough to live in the Natural State. Regardless of where you live, if you've been looking for a reason to get outside and enjoy it too, we recommend that you connect with these two clients. You may just find a passion that could give you a lifetime of joy.
And, if you're hunting for a partnership to boost your marketing strategies, reach out to our creative force for good at Stone Ward. We'd love to have a chat.