That is where we start: trust and respect. Two simple yet powerful words are the cornerstone of our relationships with our clients, many of whom are the world's most recognizable brand names. They have allowed us the privilege of caring for their brands and helping their companies and industries grow.  
From Sport Clips and Snap-on Tools to Lee's Famous Recipe Chicken, Meineke Car Care Centers, TCBY and Wendy's, we have a long history of championing the brands many Americans have come to know and trust. The common thread in all these relationships has been our belief in the power of the franchise model as an important engine for driving small business success.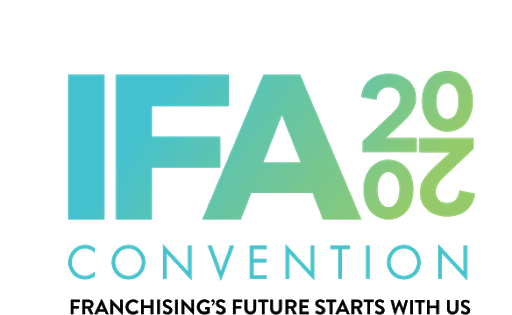 We were privileged to join more than 3,000 business leaders when we attended the International Franchise Association's (IFA) annual convention. There we learned, once again, the importance that the franchise industry places on trust and respect. From building systems that help small business owners grow, to providing training and resources advocating for the franchise industry, the IFA and its members understand the importance of building lasting, trust-based relationships.
The convention's keynote speaker and author, Simon Sinek, spoke passionately about how organizations who build cultures based on trust and innovation have the resilience to thrive in a world where the rules of business are changeable, and measures of success are not always easy to define. His fascinating book, The Infinite Game, discusses his belief that a requirement for any business to succeed is its leadership embracing a culture of trust and respect.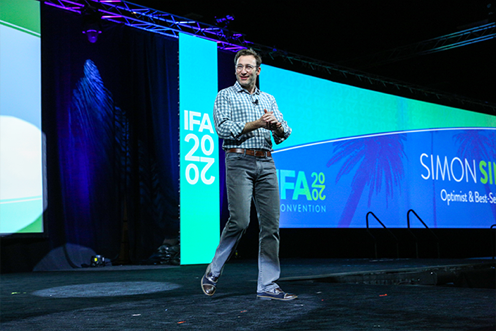 Simon's speech called to mind our own experience with our dear friends and clients at Texas-based franchisor, Sport Clips. Our relationship with Sport Clips spans more than a decade. In that time, we have supported their growth from 400 stores to now more than 1,850 in the U.S. and Canada.
We have developed a level of trust with their team that epitomizes what Simon was talking about – a working relationship where we are inspired by the opportunity to contribute to something bigger than ourselves. In addition to the broadcast & video production, public relations, and social media services we provide, we have been honored to support Sport Clips and the Veterans of Foreign Wars with the Help A Hero Scholarship program. Since its inception, the program has awarded more than 1,400 scholarships totaling $6.5 million.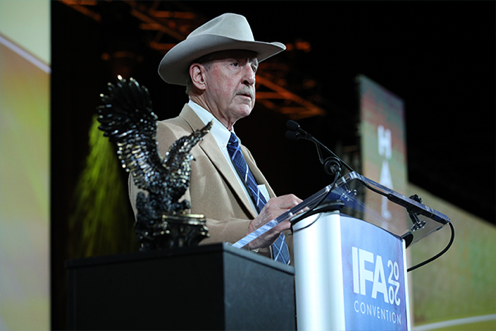 So, we were especially proud that at this year's IFA Convention, Sport Clips' Founder and CEO, Gordon Logan, received the Hall of Fame award, the oldest and most prestigious award presented by the IFA. This honor is given to members who show contributions through successful franchising programs and innovative activities toward the advancement of the franchising community. We couldn't be more proud to work with Gordon and his amazing team.
We are humbled to play a part in the growth of an industry that places such importance on this set of key core values. The franchising industry is all about "Building Good" and it has an incredible impact on America's economy. 
Earlier this month, the IFA released its annual Economic Outlook Report detailing the franchise industry's projected economic forecast for 2020. According to the study:
Franchise industry growth is expected to continue riding the momentum of the U.S. market boom in 2020, despite an uncertain economy.

The number of franchised businesses in the U.S. is expected to grow by 1.5 percent this year to 785,316 establishments.

The franchise industry is expected to add 232,000 jobs in 2020, growing total employees to 8.67 million.

Franchise businesses' economic output is expected to grow faster than the economy as a whole.

Overall gross domestic product contribution by the franchise industry is expected to grow by 4.6 percent to $494.96 billion.

The industries with the most expected growth are projected as: personal services, quick-service restaurants (QSR) and full-service restaurants.

The states that will see the most franchise establishments and employment growth in 2020 ranked in order are: Texas, Colorado, Arkansas, Florida, Idaho, Tennessee, Georgia, North Carolina, South Carolina and Nevada.
This is such an exciting time to be working with people who are equally dedicated to making positive impacts in the communities we serve. We are honored to be a part of the IFA.
Whether you are a franchised business or not, if you value customer and agency relationships built on trust and respect, we'd love to hear from you!  
You can reach us in Little Rock at 501-375-3003 and in Chicago at 312-280-6943 or fill out the form below.
Looking forward to hearing from you!