Sport Clips Haircuts, the largest haircare provider dedicated to men and boys, is the heart behind the largest veterans' scholarship program in the world, Help A Hero. The VFW and Sport Clips established the Help A Hero scholarship program in 2013, but have worked together for more than a decade to support America's service members and their families.
The VFW's "Sport Clips Help A Hero Scholarship" program provides up to $5,000 of assistance to qualified individuals who have served in the military, are in need of financial assistance, and are pursuing an education at post-secondary institutions, including trade schools. To date, Sport Clips, clients, team members and product partners have raised more than $3 million for the program, which resulted in more than 800 scholarships being awarded.
The goal this year was $1 million, which Sport Clips expects to exceed. For the last 10 years, Stone Ward has been privileged to help create promotional material for the more than 1,700 Sport Clips locations to encourage clients to donate to the Help A Hero program. Our creative team has the opportunity to travel to the homes of the veteran recipients' to hear first-hand the stories of how these scholarships are making a difference in their lives. These inspirational testimonials are then transformed into in-store collateral including mirror clings, banners and videos.
Additionally, Stone Ward's public relations team accompanied Sport Clips and VFW representatives to New York, where they were featured by TODAY on Sirius XM and in a Twitter post by Good Morning America's Robin Roberts to her more than 1.1M followers.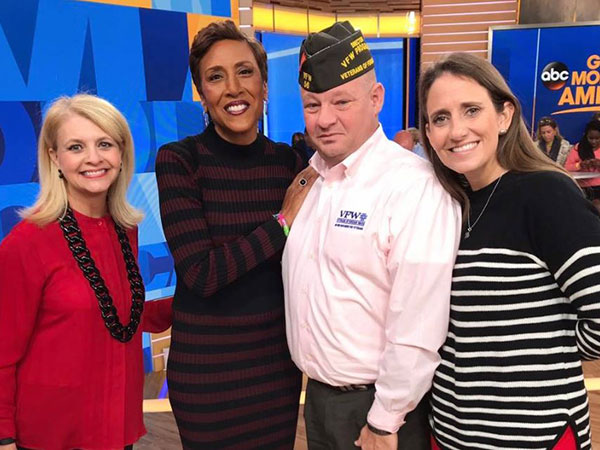 Thank you, Sport Clips, for all you do to support our nation's heroes!